aquatherm offers an innovative modern PP piping solution for 4th generation district heating and other projects with operating temperatures up to 80 °C.
One-stop-shop solution
aquatherm offers a complete solution up to DN 355 from one source:
Transport pipes
Distribution pipes
All types of pre-insulated bends and outlets
Shrink joints
Fully PP-welded house connections with pre-insulated T-pieces
Drilling of house connections with open T's and foaming on site
Hot tapping - i.e. making additional connections in a pressurised system - i.e. without any disruptions
Solutions
aquatherm offers pre-insulated pipe systems in different pressure stages in sizes from 32 - 355 mm. In addition, there are pre-insulated fittings for bends and T-pieces, as well as shrink sleeve sets WTD with fittings for 32 - 125 mm service pipes.
Prefabricated parts
Bend 45°
Bend 90°
Branch
Overhang branch
Reduced branch
Reduced jump-over branch
Self-compensating pipe system for underground installation
Due to it's lower modulus of elasticity, aquatherm energy can be installed without compensating for linear expansion. This means only low stresses are generated in the polymer medium pipes which allows aquatherm energy to be directly buried without the need to compensate for expansion. The low expansion forces are absorbed by the material without any detrimental effect.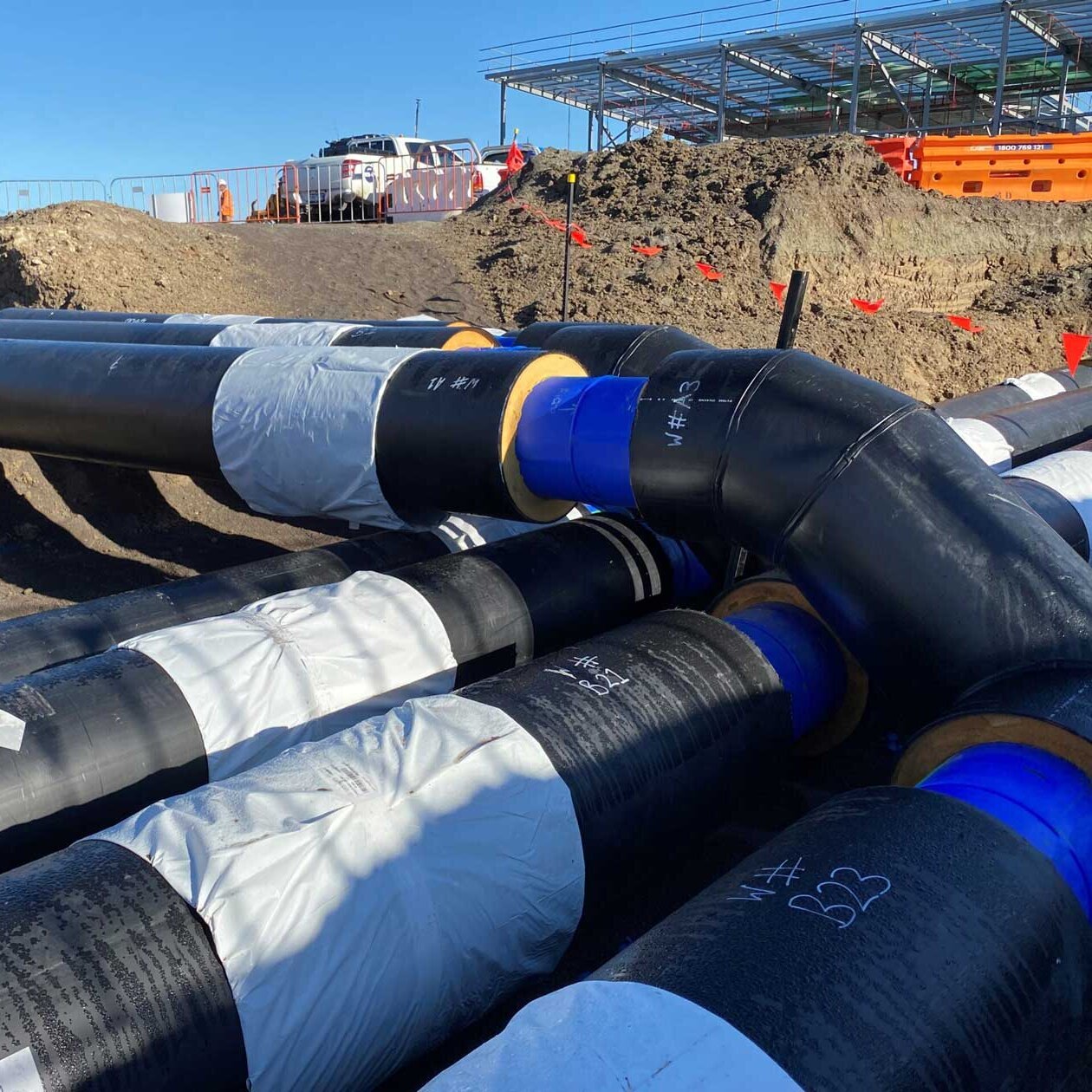 Advantages
Corrosion free system
No need for steel welders
Safer to work with as pipes are often connected above ground (not in trench)
Less depth in trench required
Less complex testing procedures
Quick installation, therefore reduced installation costs of the heat network
Flexible installation thanks to polypropylene, often without bypassing existing pipework and other structures
Less weight compared to steel
Fewer open excavations required due to faster installation
Significantly less pumping power required due to elimination of expansion loops and smooth inner surface compared to steel pipes